Top Tech Myth Busters you need to know
Hey, everyone! This is the era of rapidly growing technology. With its rapid growth, the wrong assumptions and myths related to it are also increasing with the same rate. But don't you worry. We are here to help you out with these top tech myths and give you some great tech myth busters.
Top Tech Myth Busters
In 2019, we still are into various tech myths. So, here I am going to discuss some of the widely believed myths. Give them a thorough read to know the reason behind each of these myths. Also, after reading tell us in the comments that in how many of these you also believed.
Myth No. 1: No viruses in MACs
Starting the list with the first tech myth in which my friend who owned a MAC also believed. So, as you read the title the first myth is that Apple's computers don't catch viruses. But you believe or not this is totally wrong.
Both the Windows computer and MACs can get a virus. But MACs are less affected by a virus as compared to a windows computer. Let me get you to the reason behind this.
This is because very few people use MACs and MACBOOKs as compared to the people using Windows computers. So, the person who is making a virus will try to target the systems which are used by many people.
That's why most of the viruses are programmed for Windows computers so that they can target a majority of the population. Due to this reason, most of the MACs don't catch these viruses. Hence less attacked by it. But they can get a virus or any other malicious program.
Myth No. 2: Charge Phone with Original Charger
Again, this is a very common misconception. It is so much believed that when I try to offer my charger to some of my friends, they just don't take it. It is because from somewhere they got the idea that using another charger will affect their phone's battery and its performance.
We think that we should charge our phone only with its original charger. But again, this is not true. You can charge your phone with any charger. To do so, you have to take care of just one thing. The output voltage of the charger you are using should be the same as that of the output voltage of your original charger.
If they are same, you are good to go to use that charger. And now most of the chargers are of 5V output.
Myth No. 3: Expensive HDMI cables are better
Almost every one of us has used an HDMI cable. Whether it is to connect the setup box and any other devices to our TV, we have used them. But there is a hoax in our minds regarding the cable. We usually think that higher is the price of the HDMI cable, better is its quality.
Today an HDMI cable of a local company is equivalent to any other big or reputed company's HDMI cable. If you are trying to think the reason behind this, don't stress out. Let me tell you.
The reason behind this is that we are just sending a digital signal through the HDMI cable. And it doesn't affect the image quality or the quality of the signal. Here, there will be only two cases, either we will get the signal or not.
But the second case is nearly impossible. There is no case that you will get a higher quality image or a poor-quality image because of the company of the cable. All the sales techniques which say that this cable is gold plated so its quality is better and all that stuff, they are just rubbish. Surprised?
Yes, the quality of the cable also matters. But it only matters in the case when you are using a long HDMI cable such as that of 15-20metres. Here, factors like resistance will affect the quality. So, when you need a long HDMI cable, go for some good quality.
But again, the quality will not be affected if your requirement is just 2 to 4metres.
Myth No. 4: Deleted Files can't Be Recovered
Oh man! This tech myth is something you all need to know. I think this is one of the biggest lies of this decade. A big lie we are listening from our childhood. The lie that once you have deleted a file or emptied the Recycle Bin your file is gone.
And I know that you will believe me when I will say that this is totally wrong. We were taught wrong since from our childhood.
The file which you have deleted permanently is still on your hard drive. And it will be there until and unless you reuse your hard disk or write anything else on it. So, if you have deleted an important file by mistake, then, no need to worry, you can easily extract the deleted file.
Myth No. 5: More Megapixel means better Camera
It is one of the most common myths or misconception which is prevailing in our mind. Most of us know the truth behind this and many of don't. We think that if we have a camera of higher megapixels, then, our image quality will be better. But this is a lie which is being passed from years back. All of these big companies are fooling us from years.
It is true that megapixels define the quality of a camera. But for a camera, megapixels are not the only factor which matter. There are many other factors like its lens, sensor, aperture and image processing software. All of them should be good.
Let us understand with an example. You have seen that an 8-megapixel DSLR camera is equivalent or say better than a 23-megapixel smartphone camera. All the other factors other than megapixels played their role here.
Let me give you another example which I performed personally. I took an iPhone whose camera was of 8MP and a Micromax phone whose camera was of 12MP. Then I clicked the same picture in the same way with both phones. And guess what I noticed? Yes, you got it right. The photo clicked from 8MP iPhone camera was much better than 12MP Micromax camera.
Myth No. 6: No scratches in Gorilla Glass
Nowadays we are getting Gorilla Glass in almost every phone. It is advertised such that gorilla glass can't get scratched or it is unbreakable. But this is not true. Although it will get fewer scratches than the normal glass still it will get scratches.
Gorilla Glass can also be break when the phone is dropped depending on the height and other factors. So, it is better to use your phone carefully rather than throwing it anywhere thinking that gorilla glass will protect it.
Myth No. 7: You can't use Phones in Aeroplanes
Again man! This is also one of the widely believed myth. It is thought that the waves of our phone will somehow interfere with the airplane's radio and will cause a disturbance. And this can ultimately lead to a crash. We are advised to turn our phones to Airplane mode or to switch it off.
So, do you think it can really happen? Obviously not. There is no connection between us using our phone and a plane crash due to radio wave disturbance or interference.
Myth No. 8: Higher the mAh more is battery backup
This technique is also used by many big companies to advertise their phones. It is just a common belief that having a phone of higher mAh will give better battery backup. But this is also not true. Look! I need to tell you something, battery capacity and battery backup are two different things.
Don't get confused between the two. Higher mAh does mean higher battery capacity but it doesn't guarantee better battery backup. It also depends on various factors like the internal mechanism of the phone, the processing going on during the whole day and many others.
Again, giving a personal example. The battery of my phone is of 4400mAh and the battery of my brother's phone is 4000mAh. We got our phones fully charged. Then we started using them continuously in a similar pattern.
Guess the results. My phone switched off after around 13 hours and his phone switched off after 15 hours. Now, you can understand mAh doesn't always matter.
Talking about myths, many of us have some confusions and queries regarding torrents. Are they legal? Can I use them? Will I be tracked down if I use torrent? and many more. So, to clear all your confusions and queries regarding torrents, just read: What is Torrent? Are Torrents Legal? How Torrent Works?
Myth No. 9: Don't overcharge your phone or it will blast
I can bet that at least once in your life you have thought about overcharging your phone or how it can affect your phone. It is common thinking that overcharging can affect the phone, batter or can even make the phone blast. But it is a big lie which we have been continuously passing to our friends and relatives.
From the past few years, phones are coming with a feature that automatically cuts the supply of electrical current when the phone is fully charged. Also, you will not find any mention of the effect of overcharging on your phone's guide.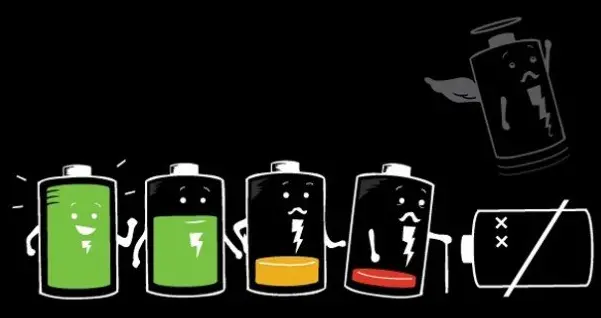 So, in short, overnight charging or overcharging is completely safe. You can just put your phone on charging at 10 pm and take it at 6 am without any tension.
Myth No. 10: Cellphones causes Cancer
This is the myth due to which our parents got angry at us. But believe me, their anger was just baseless. It's not their fault actually. They just thought about our benefit. Till date, many types of research have been conducted on this topic. And you will be surprised to know that even single research proved that cellphones cause cancer.
To make you understand this properly, I will give a fact. We have been using these cute little devices for more than a couple of decades. And from that time the number of cellphone users have grown rapidly and enormously. But on the other side, there isn't a typical rise in the number of cancer patients.
So, you can easily conclude that there isn't any relationship between cellphones and cancer.
Myth No. 11: Refresh your computer to make it faster
I have been taught since childhood to refresh the computer or laptop as soon as it starts. But why? To make it work faster. I know that I am not the only one who had this myth. You may have also been taught the same. But refreshing the PC or continuously pressing F5 doesn't make it faster even a little bit.
So, then what happens on refreshing or pressing F5? It just rebuilds the icons on the home screen of the desktop. If you have moved a file to the desktop and you are unable to see that particular file, then, in that case, you can refresh to make the computer check it again.
Myth No. 12: Apps installed from the Play Store or App Store are completely safe
Yup, you read it right. It is also a myth. Not only you but I also thought that apps which I am installing from the Play Store or App Store are completely safe. Most of the apps on the App Store and Play Store are safe to install and use.
But this is not the case with all of them. There are many cases in which Google and Apple have removed some apps from the Play Store and App Store. The reason is that these apps were malicious or didn't comply with their Terms and Conditions.
But till the time they were removed, hundreds of people were already targeted. So, what can you do in this case? You can just be a little bit more aware and not just trust every app on the Play Store and App Store.
Myth No. 13: It takes a lot of effort and time to share this post
You may think that to share this informative article, it will take much time and effort. But believe me, it's just a matter of a couple of seconds and clicks on your screen. And your this small effort can make this writer's (it's me Abhishek Sharma) day.
Conclusion
This is the era of rapid growth in every sector. Technology is spreading in every aspect of our life. But with while you are updating yourself with the latest tech out there, don't fall the myths and misconceptions.
Just be a little bit aware. Before believing in any fact completely, be sure twice.
A Big Reality: We at BrainDine are grateful for having you as our visitor. A big thank you from our heart for spending your valuable time with us. Thanks for supporting us. Your continuous love towards our content makes our efforts successful.
Share it with your friends. Ask them how many of these myths they already knew. Check your score with them.